Vol. 20, No. 3
July 2015
Emotional Abuse in North Carolina: What Administrative Data Tell Us
Figures and data in this article are from Duncan, 2015
North Carolina's Juvenile Code defines emotional abuse as something that occurs when a parent, guardian, custodian, or caretaker of a juvenile creates or allows to be created serious emotional damage to the juvenile. To confirm (i.e., substantiate) emotional abuse, a child welfare agency must show the emotional damage experienced by the child is the result of a parent's action or inaction.
Here's what administrative data tell us about CPS assessments of child emotional abuse in NC.
CPS Assessments for Emotional Abuse
Child protective services (CPS) reports involving emotional abuse are fairly rare. In North Carolina about 11,800 children are assessed by CPS each month. Of these children, on average just 61 per month are assessed for emotional abuse.
As Figure 1 illustrates, the number of children reported as possible emotional abuse victims between January 2006 and January 2015 varied each month, from a low of 29 (June 2013) to a high of 106 (March 2011).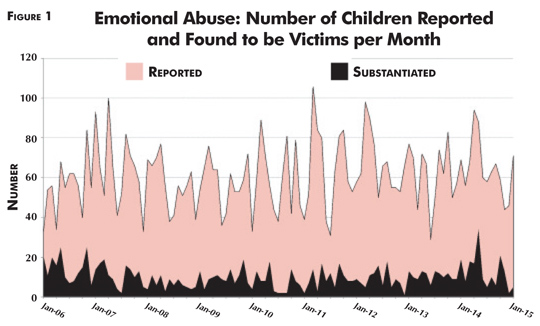 Emotional Abuse Findings
As is the case with all CPS assessments, investigative assessments of emotional abuse do not usually result in substantiation. Of the 6,661 alleged victims of emotional abuse CPS assessed between Jan. 2006 and Jan. 2015, 16.69% (n=1,112) were substantiated as victims. This averages to ten (10) emotional abuse victims per month statewide.
Traits of Emotional Abuse Victims
Administrative data tell us the following about the emotional abuse victims in North Carolina between Jan. 2006 and Jan. 2015:
Gender. Girls were somewhat more likely than boys to be reported to be victims of emotional abuse (53% vs. 47%) and to have those allegations substantiated (56% for girls vs. 44% for boys).
Age. Children attending school are more likely to be substantiated as emotional abuse victims. As Figure 2 shows, 47% of victims were age 6 to 12, 31% were age 13 and older, and 22% were age 5 and younger.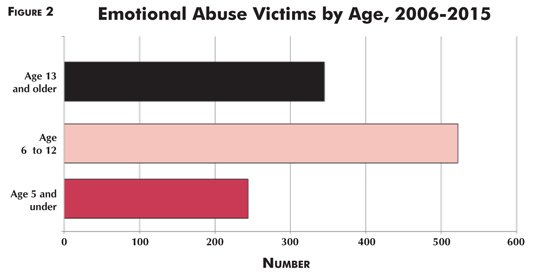 County-Specific Data
Figure 3 depicts the number of children substantiated for emotional abuse in specific counties during calendar year 2013.