© 2012 Jordan Institute
for Families

Vol. 17, No. 1
March 2012
Poison Responses for Child Welfare Staff
If a Poisoning Has Occurred
Call 911 if an emergency. Signs of a poisoning emergency include unconsciousness, convulsions, or difficulty breathing.
Be aware that symptoms of an overdose may not occur immediately. Symptoms may be delayed for up to several days.
If the patient is responsive, call the Carolinas Poison Center at 1-800-222-1222.

Provide the victim's age, weight, time of exposure, name on the poison container or bottle, and address.

Follow all instructions provided by the specialist.
Responding to Opioid and Other Unintentional Poisoning Overdoses
Signs of an overdose
Skin is pale and/or has a blue tint (cyanosis).
Difficulty breathing.
Unresponsive.
Confusion or disorientation.
A slow, erratic, or stopped pulse.
Body is limp.
Vomiting.
Respond appropriately
Assess the situation: rub knuckles against the breastbone. If the victim does not react, he/she is unconscious.
Place victim on his/her side in the recovery position (see illustration).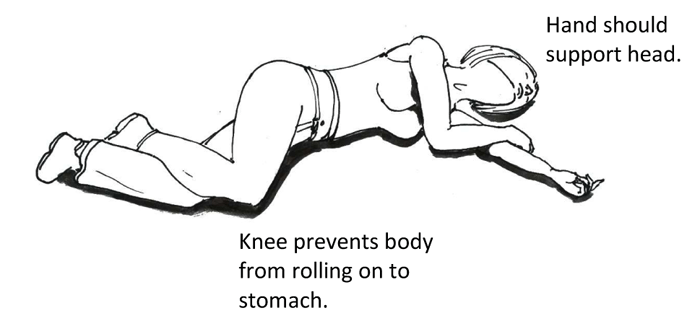 If the victim is not breathing, clear airway and provide rescue breathing.
Dial 911; mention that the victim has had an overdose so that the medical responders will be prepared to respond to the situation appropriately.
Immediate medical help is the best way to prevent death or disability from an overdose. Potentially life-saving antidotes and/or emergency treatment are available.
Fear of prosecution should not interfere with calling for emergency help.
Source: NCDHHS, 2010