Have you heard about the Adverse Childhood Experiences (or ACEs) study? The study looked at three categories of negative childhood experience:
Abuse. This category included emotional, physical, and sexual abuse;
Neglect. This category included physical and emotional neglect; and
Family dysfunction. This category included growing up in a household where there was substance abuse, mental illness, violent treatment of a mother or stepmother, parental separation/divorce, or where a member of the household went to prison.
In the study over 17,000 people receiving physical exams completed confidential surveys about their childhood experiences and current health status and behaviors. This information was combined with their physical exam results to form the study's findings. Study participants were given a score between 0 and 10 based on how many of ACEs they said they experienced.
Findings
This study made it clear that what happens when we are young can have a lifelong impact on our health and the quality of our lives.
The ACE study revealed dramatic links between adverse childhood experiences and risky behavior, psychological issues, serious illness, and life expectancy. Indeed, people with six or more ACEs died nearly 20 years earlier on average than those without ACEs.
Child trauma affects all of us. Consider the financial impact on society: the CDC estimates the lifetime costs associated with child maltreatment at $124 billion.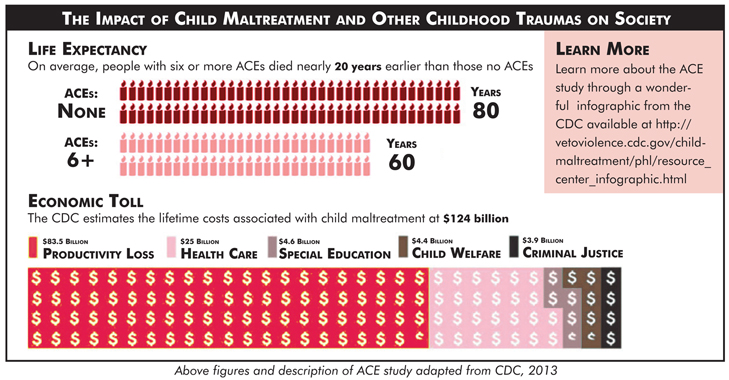 Focusing on Prevention
Past issues of this publication have talked about trauma and how important it is that our work with child welfare-involved families be trauma-informed. While this is essential, this issue of Practice Notes will focus on what the NC Division of Social Services is doing and what you and your agency can do to prevent child trauma from happening in the first place.
Contents of this Issue