Vol. 26, No. 1
December 2020
North Carolina's Child Welfare Transformation: An Overview
An enhanced statewide child welfare practice model involves stronger partnerships between child welfare agencies and the courts, mental health agencies, and families. It uses new approaches to attract, retain, and train qualified staff. It needs funding and resources to support programs to prevent children and youth from entering foster care, for family-like placements of children and youth in foster care, and more. These things are already underway or will soon be here in North Carolina.
This article will provide an overview to help you get your arms around our state's transformation plan. It will explain--in broad strokes--why our state is embracing change, what our plan is, and where to learn more about child welfare transformation.
Needed Changes
North Carolina's child welfare system exists to serve some of the state's most vulnerable citizens. Those who work in this field are passionately committed to improving outcomes for families and children. Driven by this desire, North Carolina has tried over the years to strengthen this system. Some of these initiatives, including Families for Kids (1995-98) and the Multiple Response System (2001-06), led to meaningful improvements, but areas of struggle still remain.
This has been underscored by reviews of North Carolina's child welfare system. The federal Child and Family Services Review (CFSR) in 2015 and a statewide evaluation of child protective services in 2016 both identified troubling gaps. For example, North Carolina did not meet federal standards for any of the outcomes and systemic factors evaluated by the CFSR. The 2016 evaluation noted the state's limited capacity to monitor and ensure consistency of child welfare services, expressed concern about staff turnover, and called for the state to update its funding methodology for child welfare (PCG, 2016).
Asked to identify the root causes of our difficulties, system stakeholders have named a variety of factors, including local variations in support and compensation for child welfare staff, inconsistently available evidence-supported interventions, insufficient access to a culturally-sensitive, trauma-informed service array, lack of strategic community-level partnerships, and inconsistent access to/use of data to support continuous performance improvement (NCDSS, 2019).
NC Responds
To address these shortcomings, in 2017, the NC General Assembly passed the Family-Child Protection and Accountability Act (SL-2017-41), also known as "Rylan's Law." One of the provisions of this law required an independent assessment of the state's child welfare system. The Center for the Support of Families (CSF), which was chosen to conduct this assessment, praised the state's "real focus at every level of the system for improvement and commitment to working toward changes to better serve families" (CSF, 2019, p. 2).
CSF's final report, issued in May 2019, represents a formidable "to-do" list. The report's recommendations integrate and align with the mandates of the state's "Rylan's Law" and the 2018 federal law, Family First Prevention Services Act (Family First), which is one of the most sweeping pieces of legislation to impact federal child welfare financing and programs in decades.
Leadership in the NC Department of Health and Human Services (NC DHHS) fully embraced the vision of change outlined in the CSF report. In fact, working in partnership with County Directors of Social Services, NC DHHS used that vision to create North Carolina's Child and Family Services Plan (CFSP), a 5-year strategic plan for child welfare. Through this plan, our state combined recommendations resulting from the many assessments completed on child welfare over the past 10 years to make the commitments outlined below. These commitments represent North Carolina's five major strategic priorities for its child welfare system.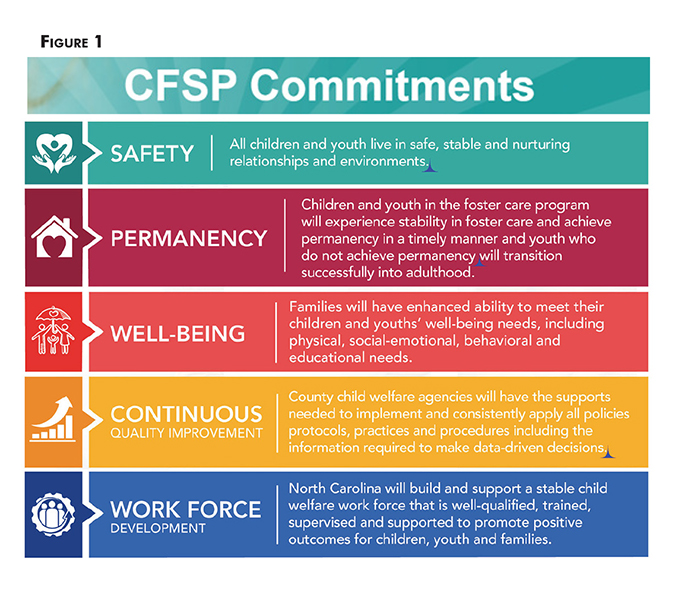 North Carolina's 2020-2024 CFSP focuses on strengthening current programs and practices to improve services to children, youth, and families. It includes a timeline to guide our work as well as a method to ensure diverse stakeholders have input on how the state improves the child welfare system.
According to the 2020-2024 CFSP, over the next five years, our state will:
Lay the groundwork for implementing Safety Organized Practice, North Carolina's practice model
Improve practice in CPS by validating our risk assessment tools and defining services provided in In-Home Services
Improve permanency outcomes by strengthening data-driven partnerships with the court system
Increase placement stability for children and youth in foster care by developing a training and licensure process specific to kinship caregivers
Maximize participation in the state's Foster Care 18-21 program by developing an orientation to help transition age youth make decisions about their future
Strengthen the state's training and technical assistance model to ensure it adequately addresses the knowledge and skills needed to carry out health programming
Infuse trauma-informed and trauma-responsive practices across all child welfare policies, procedures, and community-based programming
Ensure child welfare leaders and staff have access to reliable data to use in the continuous quality improvement process
Develop a new set of core competencies for child welfare that are skills-based, address equity and inclusion, and align with the practice model
Develop and begin implementing a stipend support program for MSW and BSW students in the Child Welfare Collaborative
In the overall process of child welfare transformation, the 2020-2024 CFSP is an essential roadmap. It gives the system and its stakeholders details about the "what," the "how," and the "when" regarding what is needed and included in this first part of the state's transformation journey.
Guiding the Change
To help the system achieve the objectives noted above, the state is actively involving stakeholders in a teaming structure. Figure 2 shows the teams and workgroups North Carolina has formed to offer guidance and input as it transforms its child welfare system.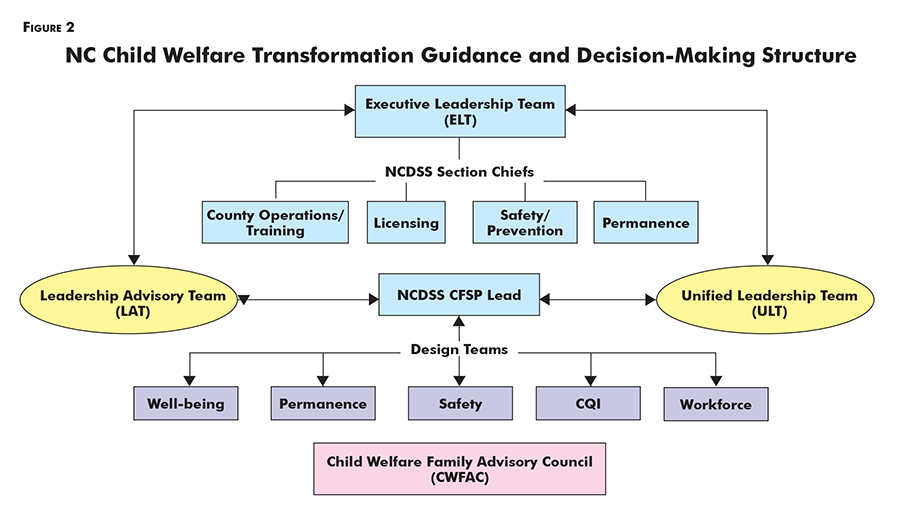 ELT (Executive Leadership Team). The decision-making body that oversees child welfare system transformation. Responsible for setting the vision, leading the implementation, aligning policies and finances, incorporating recommendations for system learning, and ensuring transformation achieves identified outcomes. Meets: monthly. Members: leadership of NCDHHS.
LAT (Leadership Advisory Team). Works with the ELT to inform and support planning, readiness, implementation prioritization, and sequencing of specific recommendations and initiatives related to recently enacted legislation to reform child welfare. Meets: monthly. Members: leadership from NCDHHS, NCDSS, Chapin Hall, GAL, SaySo, Medicaid, county child welfare agencies, CWFAC, and other stakeholders. To ensure alignment, many LAT members sit on different Design Teams.
ULT (Unified Leadership Team). Provides a forum for state and county leaders to provide guidance, direction, and sequencing instruction for child welfare transformation. Meets: 2x/month. Members: leadership from NCDSS and county child welfare agencies.
CWFAC (Child Welfare Family Advisory Council). A state-level body comprised of individuals impacted by child welfare services. Meets: monthly. Members: parents who have received child protective services, resource parents, and foster care alumni.
Design Teams. Teams tasked with making recommendations for implementing the CFSP. There are five teams, one for each of NC's major strategic priorities for child welfare. Meet: monthly. Members: representatives from NCDSS, courts, county child welfare agencies, CWFAC, and other stakeholders.
To Learn More
If you want to learn more about child welfare transformation in North Carolina there are several things you can do. To hear directly from all stakeholders involved and get more detail about the practice model, ULT, Design Teams, and about how we are forging ahead in the midst of a pandemic, please see the other articles in this issue.
Future issues of Practice Notes will provide a "deeper dive" into different aspects of child welfare transformation in North Carolina, including a report on the progress on the 2020-2024 Child and Family Services Plan, North Carolina's plans for implementing Family First, and more.