© 2007 Jordan Institute
for Families

Vol. 12, No. 3
June 2007
Facts About North Carolina's Small Towns
Ours is a state of small towns. There are 478 towns in North Carolina with fewer than 10,000 people. In fact, 437 towns have fewer than 5,000 people.


Thousands of North Carolinians choose to live in small towns. More than 900,000 live in towns with fewer than 10,000 people.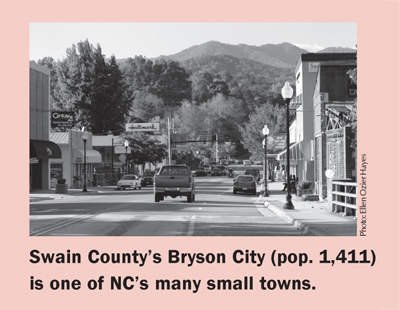 Most small towns are located in rural counties. Nearly half are in the East. The eastern third of the state has 253 municipalities, most of which have fewer than 5,000 people.


Small town residents are likely to be native-born. More than 65% of the population in small towns is native to North Carolina.


Small town residents tend to be older and to have limited education. Forty percent are over 45 years of age. One in five small town residents has less than a high school education.


Most small town residents travel to other places for work. More than 70% commute to work within their county, to another NC county, or to another state. Most commute for less than 30 minutes.


Twenty-one percent of small town residents work in the manufacturing industry—a sector that's seen considerable losses.


Many small towns are losing population. More than 140 towns (28%), lost population between 1990 and 2000. All but three of these had populations of less than 5,000.


Small towns have the highest poverty rates. There are 73 towns with a poverty rate over 25%. Of these, 63 have populations of less than 5,000. More than 50 of these small, high-poverty towns are located in the East.


Towns of fewer than 1,000 have more problems. More than 60% of towns with a population of less than 1,000 have tax rates lower than the state median, producing less revenue for services. Forty percent of these towns spend at least half of all revenues on general government and public safety.
Excerpted from the North Carolina Rural Economic Development Center's Small Towns Fact Book (2005, Nov.) <www.ncruralcenter.org/pubs/SmallTownsFactBook.pdf>.