Vol. 22, No. 1
December 2016
Identifying and Engaging Child Victims of Human Trafficking
Child welfare work with minors who are victims of sex trafficking can be tough. Though they have been repeatedly traumatized, often these young people don't see themselves as victims--they may feel strong loyalty or even "love" for their exploiters. What's more, to survive many have developed behaviors and coping strategies--including a propensity to run away--that can make them hard to connect with and help. Here are some suggestions for working with this sometimes challenging population.
Victims, Not Criminals
First, understand these young people for what they are: victims and survivors. State law is explicit on this point (see NCGS § 14-204). Children and teens are not culpable for crimes committed due to human trafficking and are automatically victims regardless of their knowledge of or agreement to commercial sex acts (Polaris Project, 2010).
Unfortunately, some people mistakenly see minors who have been trafficked as delinquents or criminals. This puts them at risk of involvement with the criminal and juvenile justice systems. We can help by educating others on this point whenever necessary.
Identification
Few children and youth who have been trafficked know their status in the eyes of the law. Many believe they are guilty of crimes. Pimps may send this message as a way to manipulate them. As a result, these young people tend to hide or evade identification.
Thus, it helps to know the signs a child or teen may be a victim of sex trafficking. The following signs (from youth.gov) are potential indications:
Misses school on a regular basis and/or has unexplained absences
Frequently runs away from home
Makes references to frequent travel to other cities or towns
Has bruises or other signs of physical trauma, withdrawn behavior, depression, anxiety, or fear
No control over their schedule, identification, or travel documents
Is hungry, malnourished, or inappropriately dressed (based on weather, etc.)
Shows signs of drug addiction
Gives "canned" (coached or rehearsed) answers to questions
Sudden change in attire, behavior, relationships, or possessions (e.g., expensive items)
Is uncharacteristically promiscuous or makes references to sexual situations or terminology that are beyond age-specific norms
Has a noticeably older "boyfriend" or a "girlfriend"
Conceals recent scars/tattoos
Sudden change in attention to personal hygiene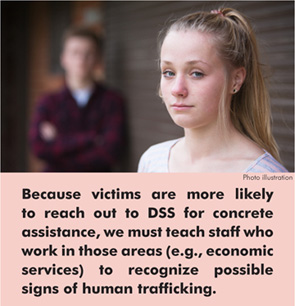 Signs observed during travel:
Travel companion controls documents, tickets, and movement
Avoids eye contact with travel companion
Lacks knowledge of travel plans and destination
Again, these signs are not definite confirmation of trafficking--further inquiry should occur.
There is some evidence that when they interact with DSS, minor human trafficking victims do so to seek out concrete services (Swaner, et al., 2016). For this reason, agencies should make it a priority to teach staff who work in those areas (e.g., economic services) to recognize possible signs of human trafficking.
Responding to Possible Victims

If you identify a potential child victim of human trafficking and it is an emergency situation, call 911. If for some reason your agency can't respond (e.g., the report does not meet the legal mandates for CPS involvement), call the National Human Trafficking Hotline (888/373-7888).
Engagement Tips
If child welfare professionals need to interview a young person they suspect of being a survivor of sex trafficking, the following tips, adapted from Intervene: Identifying and Responding to America's Prostituted Youth (Shared Hope International, 2010), may prove helpful. (Note: these tips may be useful in talking to all child-welfare involved youth, not just trafficking survivors.)
1. Be non-judgmental and kind. This is the basis of all future interactions.
2. Meet emergency and basic needs first. You can't have real dialogue if basic needs are unmet.
3. Check the room. The interview space should be youth-friendly, comfortable, and private.
4. Allow enough time. Give yourself time before the interview to develop rapport with the youth.
5. Be flexible. Let the youth guide the conversation at first. This will help you achieve your goals in the end, and it begins the empowerment process.
6. Be up front. Explain at the start who you are, your mandated reporting requirements, and what your goals are for the conversation.
7. Ask permission. If you must use a form or take notes, ask permission so the youth knows why you are writing things down information about them, what it will be used for, and whether it is confidential.
8. Use youth-friendly language. Mirror (appropriate) language used by youth when asking questions about events in their story.
9. Use "listening" body language. Your body language should be open and communicate a desire to hear everything, including unpleasant or uncomfortable details.
10. Limit the personal information you share. While it's important to participate so the conversation doesn't feel one-sided, sharing significant or really personal stories in an effort to connect can place an inappropriate burden on the youth to counsel you. Additionally, don't share your personal information (home address/cell phone number, etc.).
11. Use interruptions wisely. When youth begin to share, avoid constantly asking questions; this can feel invasive. However, taking numerous short breaks can help the youth avoid feeling re-victimized. If at any point you notice distress, "check in" by asking, "What are you feeling right now?" Listen to the response and resume the narrative only when the youth is ready.
12. Meet youth where they are. Respect where the youth is psychologically and emotionally. The youth may not acknowledge her situation as exploitative and may even have to or desire return to the abusive situation. Work first to understand and define the youth's immediate and long-term goals. When this is done, guide the youth (over time) into defining and understanding her situation; do not to assign a label to her.
13. Set boundaries with youth. Respect boundaries set by the youth, especially regarding touch. Don't touch without permission. If the youth gives permission to hug, let the youth be the one to initiate the hug.
14. Be a team player. A multidisciplinary team approach is key to holistically caring for the youth. It's natural for youth to bond more with certain team members. Don't take this personally. Never talk disrespectfully with the youth about others on the team.
15. Be transparent and reliable. When working with survivors, always follow through with what you say you will do. Never make a promise you can't keep. You will have to earn their trust. The more you can involve youth in achieving their goals, the more quickly trust will grow. For example, include the youth in referral calls. This allows the youth to watch "her" practitioner interact with another professional as well as hear how and why you're making the referral.
References for this and other articles in this issue
There are two online resources on this topic we'd like to mention:
National Human Trafficking Resource Center (NHTRC). Offers a wide range of services for trafficking victims and the people and groups who help them, including dozens of online trainings and an extensive resource library. https://traffickingresourcecenter.org/
NC DSS Webinar Recording. "Human Trafficking: What Child Welfare Agencies Should Know" (event date: 10/24/2016) features Erin Conner from the NC Division of Social Services and Lindsey Roberson, a former assistant DA and expert on human trafficking. http://fcrp.unc.edu/webinars.asp.
Have you heard about Project NO REST?
Short for "North Carolina Organizing and Responding to the Exploitation and Sexual Trafficking of Children," this federally-funded effort, which will run from Oct. 2014 - Sept. 2019, seeks to reduce the number of youth trafficked and improve outcomes for youth who are trafficked by increasing awareness of human trafficking affecting children and youth age 25 and younger in NC, especially those involved in the child welfare system.
In 2015-16 the project brought together government agencies, organizations, and stakeholders to develop a comprehensive and coordinated plan to address human trafficking of youth. Through this plan, our state's infrastructure for dealing with human trafficking issues, especially the trafficking of youth, will be made stronger and more effective.
Through Project NO REST, five communities are serving as pilot sites for implementing anti-human trafficking efforts:
30th Judicial District, comprised of Cherokee, Clay, Graham, Haywood, Jackson, Macon, and Swain counties along with the Eastern Band of the Cherokee;
Our Voice, comprised of Buncombe, Henderson, Madison, and Yancey counties;
Pat's Place in Mecklenburg County;
Friend 2 Friend, comprised of Montgomery, Moore, and Randolph counties; and
Cumberland County Sheriff's Office.
Lessons learned from Project NO REST will be used to develop a toolkit for implementing similar efforts in counties across the state and throughout the country. This project will also use existing and new data sources to develop valid and reliable estimates of the size of the human trafficking problem in the state. Information Project NO REST will be widely disseminated across the state and made available across the country. To learn more go to http://projectnorest.web.unc.edu/.