Foster care can be a lifeline for children and families, but when it goes on too long it can have negative effects. That's why federal law tells courts and child welfare agencies they must help youth achieve permanence within 12 months of entering foster care.
Yet as the figure below shows, over the past four years, the time it takes NC children to exit foster care has grown. As the figure also shows, time to adoption in particular is an issue. In SFY 2018-19, children who exited to adoption spent far longer in foster care--a median of 912 days--than those who exited to reunification, guardianship, or custody.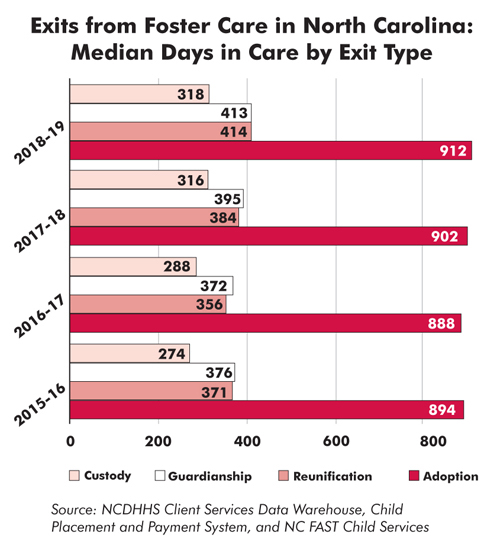 North Carolina is determined to decrease length of stay and increase the rate of safe, permanent exits from foster care. No single strategy will achieve this, but as this issue of Practice Notes describes, our state is pursuing a number of proven methods to improve our performance. Despite their differences, a common theme of these approaches is the need for strong partnerships in which our judicial and child welfare systems hold each other accountable and work together to improve results for children and families.
Contents of this Issue